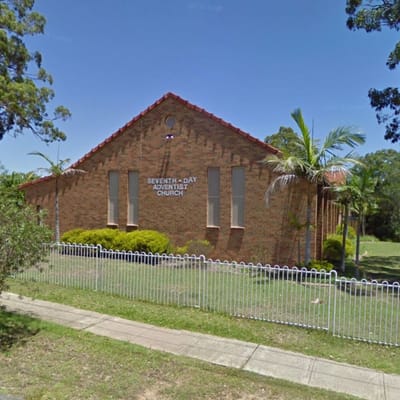 Outline of Our Church History

A Brief Outline Of Kanwal Seventh-day Adventist Church
1949 – Was the beginning of Kanwal SDA Church, when three families, met together in a local community hall in Wallarah Road, just a few meters from where we now stand. Those families were Brother and Sister Ern and Melba Gordon, Brother & Sister Norman and Ivy Harker and 3 children, and Sister Joyce Wallace and 5 children.
1950 – Pastor Tutty was sent from the conference to visit isolated members in the Wyong district, and by 1952 the first Sabbath School with 9 seniors and 8 eight children was organized.
In December of 1952 the first election of officers for the Kanwal company took place. Brother N Harker local leader, Pastor Tutty conference leader, Sabbath School Super Brother Ben Lomman , Assistance Sister Sister Joyce Wallace, and Sabbath School Secretary. Miss Janette (what a job for a 14 year old.) (The minutes of this meeting are recorded.) Soon the members had increased to 20, but to be a fully fledged church they would need a number of 30 members. Even at this early stage, plans were on the agenda to secure land and build their own church.
God's work was not neglected, and his leading for his church at Kanwal is obvious. Between the years of 1952 – 1962 – seven members were added by baptism, and the total number had grown to 30. There are minutes recorded for the years 53, 55, 57, 58 60, and 61. Land for the church was donated by brother & Sister N & I Harker, and the back block by brother and sister C & R Boyd.
1962 – The minutes for the organising of of the Company to Church status are recorded. ( On table)
The building of the Church (on this current site) was under way, and the first meeting in 1963 – was held in Kanwal Seventh-day Adventist Church's own building, some time after March, as at date the members were still adding necessary items and putting finishing touches in readiness for use. This original opened out out at the opposite end to this one. That is it opened onto the intersection of Wallarah & Minnamurra roads.
At this stage the building was actually called the church hall, and was used for all different functions of the church.
1971 – A hall had been added at the rear of the church, and church sanctuary could now be used exclusive for sacred purposes, and a date set for the Dedication of the church was November 13th 1971. The minutes of November 13th, show that it was " a day to be remembered". Pastor Leo Rose, Conference President and Brother Oliver Twist Conference Secretary officiated, and many other guests were present.
1972 – Membership had now reached 70. God had his hand over his church, and by 1979 the need to move for more room was obvious, and traffic noise had greatly increased. Plans were afoot and by
1982 – The original church was sold to the Anglican group of believers just down the road, and a new church building was under way. No time was wasted, and the new church was opened in November of 1982. At this stage the membership had reached 103.
1991 – The new church was finally dedicated on 23/11/91.
1994 – Disaster – On May 21st 1994 our beautiful church was burned to the ground. As Pastor Butcher was quoted by the Advocate it was a " total wipeout" what had been destroyed by the fire was ruined by water. The loss was assessed at approximately $450,000. Amongst the ruins were 4 pianos, an organ and various sound equipment, not to mention past records, and many video and audio tapes. We are so fortunate to have the records we now hold. Why did it happen? We will have to wait to hear the answer to that. For the next 18 months or so the Salvation Army kindly offered the use of their church for us to worship in, and once more Kanwal SDA Church was going through the building routine.
1995 – This church that we now worship in was officially opened and dedicated on 26th August 1995.
1996 – 2003 – Kanwal Church has conducted many outreach programs during these years, and we have seen members come and go, and membership has fluctuated from 104 and up to 120 in 2000. We now recognize and give thanks to our Heavenly Father for for his leading and nurturing over the years., and trust fully in his leading for the future, for he will not fail us.
We meet every Saturday (Sabbath) at 9.30am for Sabbath School and 10.50am for main church service. New members and visitors are welcome.